Grow Camden
By George Selley & Michelle Markham

London exceeded its legal limits for toxic air for the entire year in the first five days of 2017.

Grow Camden is a collaborative researched based project from students on the MA Photojournalism & Documentary Photography course at LCC. The project aims to create more green public spaces within unused parts of in the London Borough of Camden. We argue that many public spaces could be better utilised to provide green areas, using plants that are not only efficient at removing Co2, but also other toxins such as Benzene, and Formaldehyde from the air. We have identified 9 key sites, based on levels of pollution, proximity to schools, and level of investment to communal areas; where green spaces could be easily and economically implemented. Our research - including case studies of other areas where green community based projects have been successful, as well as mapping techniques and identification of key sites are presented here.



CASE STUDY:
Grow Elephant


Grow Elephant is a volunteer run community space that aims to improve the quality of the local environment in Elephant & Castle and Walworth. The space runs gardening workshops with local residents and schools and supports other gardening projects in the surrounding areas. The garden is an important social space for the local community, and hosts a range of events from film screenings, to talks and live music.




Grow Elephant operates on a lend lease licence for the land it occupies, whereby the developers of the Heygate Estate have agreed to provide a large area of the site for gardening and gathering, while the land is redeveloped. Such an agreement is not only an efficient way of removing toxins produced by building materials and pollution but is also an effective way to provide at least some benefit to the local community while large scale development takes place in the area. Our research has shown that such agreements - while not being an ideal solution to the mass creation of unaffordable housing - can be an effective way of increasing relations between developers and the local community. If lend lease's were to become compulsory for developers, this could possibly ease much of the tension between large scale developers and local residents. Given the success of Grow Elephant it could be looked to as a blueprint for how similar spaces could be created in the future.



Plant Research

A previous study by the National Aeronautics and Space Administration (NASA) - "Clean Air Study", suggests that certain plants may provide an organic way of removing common toxins from the air, such as Benzene, Formaldehyde and Trichloroethylene. A list of 31 plant species with the most effective air cleaning properties were identified and listed in the study. The research was initially produced in order to combat the suspected build up of toxins in space stations. The research identified that as well as absorbing Co2, certain plants are also efficient at removing significant amounts of toxins from the air. NASA claims that sufficient air cleaning is accomplished with at least one plant per 100 square meters of space. (NASA. 1989). Related research also suggests that the use of micro-organisms in the potting mix can significantly contribute to the removal of Benzene from the air.
Although the Clean Air Study was initially identified for use in indoor areas, certain plant species from the list of 31 can grow outdoors with reasonable comfort, and in a British climate. Specifically, English Ivy, was identified as being efficient at removing 5 out of 6 listed toxins from the air. We suggest that English Ivy could be provided as an alternative to other plant species used in public spaces of not only Camden, but throughout London. Trees such as the Yellow Poplar, London Plane, Black Walnut, Silver Maple, Oak and Horse Chesnut are identified as the most efficient at removing Co2 from the atmosphere. But in cities, citizens are also exposed to other toxins, for example produced by the chemical makeup of gasoline, as well as compounds found in building materials and solvents.
Many of these toxins have been found to have strong links with the formation of tumours. Trichloroethylene, for example, found in many solvents, has been identified to have sufficient links to cancer of the kidney in humans as well as some evidence of cancer of the liver and non-Hodgkins lymphoma, (International Agency for Research on Cancer. 1970). A further study in 1999 indicated that the chemical was far more toxic than previous studies has shown. Similarly, the same study indicates that Formaldehyde (found in many building materials and preservatives), is highly toxic to all living animals, and the Medical Management Guidelines suggest that ingestion of high concentrations of the compound can cause death in an adult human, despite its common use in a large range of materials and products. Finally, Benzene, (the cause of the odour in petrol stations), is a component of gasoline, and found in relatively high amounts in most urban atmospheres, is a known carcinogen and a notorious cause of bone marrow failure, and leukemia.

By planting a mixture of trees efficient at removing Co2, and toxin removing plants such as English Ivy, our green public spaces could not only benefit local communities, but also reduce exposure to carcinogenic toxins found in urban atmospheres, and hopefully improve public health. As Camden residents, we have identified 11 key sites in the borough where our combination of toxin fighting plants could be easily implemented. We have collaborated with a local designer to create compositions of our proposed sites, to present how much they would cost, and what they would look like. We are in the process of presenting this research to Camden council.


Mapping Sites
KEY FACTORS

POLLUTION
London exceeded its legal limits for toxic air for the entire year in the first five days of 2017. (Edwards, T. 2017). A 2015 study also found that air pollution in London has been linked to 9,400 premature deaths a a year. (Kings College. 2015). Sadiq Khan recently announced the introduction of an alert system last August, whereby warnings will be issued at bus stops, tube stations and signs. We argue that the introduction of plants, proven to efficiently remove multiple toxins from the air, would be a more effective, economic and aesthetic solution to the pollution crisis London faces. Considering this many of our key sites were identified because of their proximity to junctions, and A roads within Camden.

SCHOOL PROXIMITY
Another of the driving factors in identifying key sites is proximity to schools. There are currently 42 primary, and 11 secondary schools in the borough of Camden, 21 of these are located within the immediate area or within close proximity of our key sites. There is much research to indicate that activities among green environments increase concentration levels by up to 30%, and creativity by up to 48%. (Faber Taylor, A, Kuo F, & Sullivan W. 2001). "Green" settings have also been identified as the most effective in improving symptoms of ADHD & ADD - a common disorder among children and adolescents in the UK - more effective in fact than medication. With increasing amounts of research linking green environments with improved performance and mental wellbeing among children, the proximity of our sites to schools was of considerable importance.
PUBLIC INVESTMENT & COMMUNITY ENGAGEMENT
Many of our identified sites were selected based on their apparent level of investment and amount of communal and public spaces. Therefore areas of Camden such as Hampstead, Bloomsbury, Covent Garden and Regents Park were therefore not considered (at this time). We initially focused on more northern, residential areas where public spaces appear to receive less funding and attention than their more central and greener counterparts. We also aim to engage local residents, schools, care homes and community centres to sponsor one of the sites near their location and take on active roles in maintaining some of the plant installations.



Final Design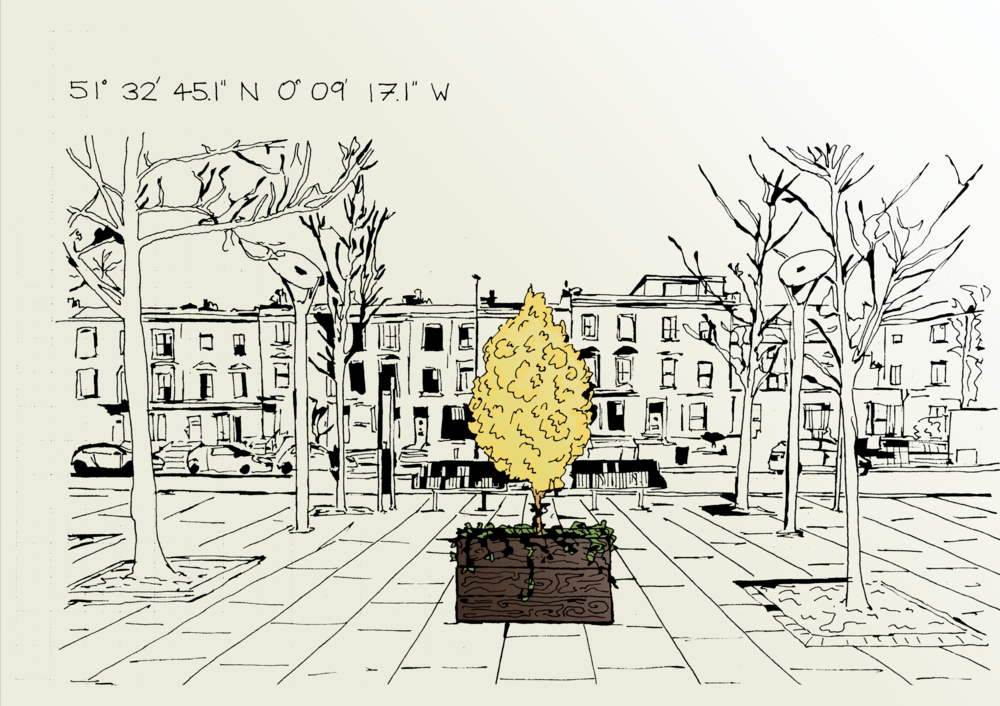 In order to visually represent how our proposed combination of toxin fighting plants could be implemented at our key sites, we photographed the Japanese Peace Lilly in all 11 locations. As previously mentioned, the Peace Lilly was the most efficient plant identified by NASA's clean air study - making it a suitable representative. In the photographs, the lily appears as a melancholy symbol of the project, seemingly overwhelmed by the pressure of it's toxin removing task.



Key Site 1
Key Site 2
Key Site 3
Key Site 4
Key Site 5
Key Site 6
Key Site 7
Key Site 8
Key Site 9
First published 10 March, 2017.